Acupuncture in Portland & Naturopathic Medicine. Acupuncture treatment facilitates natural healing and helps alleviate morning sickness during pregnancy.
Acupuncture in Portland
For thousands of years, acupuncture has been used to treat diseases, facilitate healing and restore healthful vigor. Originating in China, acupuncture is part of a Taoist system of medicine that approaches each individual as an interconnected sum of physical, emotional and spiritual qualities, constantly flowing, changing and affecting each other.
During an acupuncture treatment, ultra-thin, sterile needles are inserted into specific points on your body. For most people, there is little or no discomfort from this process. In fact, many people (even those once afraid of needles) find acupuncture so restful they fall asleep during a treatment.
Naturopathic Medicine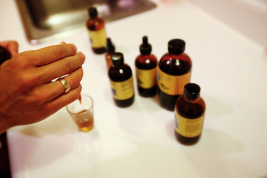 Naturopaths are primary care physicians trained in four year accredited medical programs. They can prescribe conventional pharmaceutical medications (antibiotics, pain medications, blood and heart medications, psychological medications, etc.) as well as order MRIs, x-rays, CT scans and blood labs. Naturopaths have additional training in nutrition, homeopathy, botanical medicine, minor surgery, pharmacology, and physical medicine. The hallmark of Naturopathy is the focus on treating the whole person in a way that is congruous to the person's needs and abilities.
In our clinic we have a full herbal and nutritional medicinary as well as the ability to perform throat cultures, urine tests, blood draws and IVs.