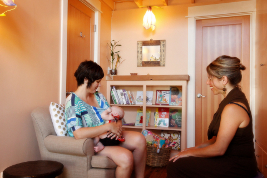 WHAT IS HOLISTIC PELVIC CARE ™?
Holistic Pelvic Care™ (HPC) is a technique designed to restore emotional, physical and energetic imbalances that are rooted in the pelvis. It was developed by Tami Kent, a women's health physical therapist, from manual techniques originally designed to help incontinence in women but enriched to encompass the emotional and energetic aspects of womanhood.
WHO WOULD BENEFIT?
Any woman seeking a more integrated approach to connection between her physical body and her deeper wisdom to heal and nurture herself would benefit from this work. Specific physical manifestations include: dysmennorrhea, fibroids, fertility issues, post-partum care, cesarean recovery, painful intercourse, incontinence, vaginitis or trauma to the pelvic region.
WHAT WOULD A TYPICAL SESSION BE LIKE?
Although every woman is different, a typical session begins with a detailed intake about current issues you wish to address and your medical history. Because I am an acupuncturist, questions related to your constitution and an assessment of your pulse and tongue are also part of the intake process. The hands-on portion takes place on a massage table with some light acupuncture, detailed physical pelvic work and guided visualizations.
WHAT HAPPENS AFTER THE SESSION (FOLLOW UP)?
The number of treatments will vary depending on your response to the first session and how chronic your condition is. It is not uncommon for women to remember or become aware of deep emotions regarding various aspects of their lives. Since this work is designed to restore physical and energetic imbalances in combination with the emotional, it may be necessary for a referral to a trained counselor. If this is the case, you will be referred to a trusted specialist. Additionally, herbal and nutritional formulas and/or lifestyle suggestions may be prescribed to aid your healing process.
"Beth Yohalem-Ilsley is one of the first providers I taught HPC too, and I couldn't be happier with her beautiful integration of this work into her practice of Chinese medicine and women's health. She is a gifted healer and I'm so glad to have her practicing HPC."-Tami Kent, founder of Holistic Pelvic Care
Internal cavity work is permitted when performed by Licensed Massage Therapists via Oregon Administrative Rule 334-010-0029. Beth has licensure as an Oregon LMT #4942.