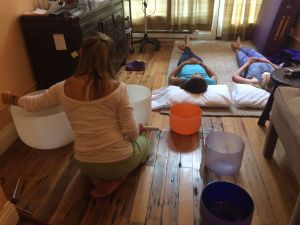 Beth uses tuned crystal singing bowls, bells and tingshas to induce a higher state of consciousness and to create a deep sense of peace. Each session is a unique creation of the moment using harmonious sounds to move, excite and change stuck or sluggish energy.
Sound healing is an extraordinary mixture of sound and sensation that most people find both relaxing and rejuvenating. For more scientific information about how sound healing works (and other amazing resources), you can visit the website of my sound healing teacher, Leigh Ann Phillips.
TESTIMONIALS
"I felt so relaxed and inspired from Beth's sound bowl treatment. It felt like the sound was coming from everywhere. I fell into a deep meditative sleep and awoke feeling awesome! Beth is such an amazing healer. Thank you so much!" –JI 43 y.o
"My experience of sound bowl therapy with Beth was deeply relaxing and beautiful. During treatment all muscular tension released, all mental chatter dissipated and all anxiety evaporated.  After treatment I felt a long-lasting sense of well-being." –  JC  67 y.o.
"My sound bowl experience was magical. It was like bathing in sound, sound that held me, sound that opened me up, sound in all colors of the rainbow. I left feeling a profound sense of wonder and possibility." – MBJ 42 y.o.
Please note: due to confines of the insurance world we are unable to bill insurance for this service. Personalized sessions are $100/hour, due at time of service. Please specify sound bowls when making your appointment.